Mount Kenya Trekking Guides
Whether you are looking to conquer the altitude within a day, a weekend or through a couple of days-experience on the mountain, we will equip and trek with you through the most amazing places on Mount Kenya.
About Mount Kenya
Mount Kenya is located approximately 170 km/95mi from Nairobi City, and is situated just south of the equator. The Mountain which is within Mount Kenya National Park offers three major trekking routes: Naro-Moru (Southern route), Sirimon (Northern roue) and Chogoria (Eastern route). The Mountain is graced with magnificent cliffs and glaciers that protect the highest peaks – Kenya's beauty – from where you'll see the rest of the world.
@Jaribu Mount Kenya Trekking Team
@Jaribu Team will prepare, equip & trek with you, to the peaks on Mount Kenya. Our packages include; guides, cook, porters, and game fees. We take care of every aspect and let you focus only on your ability to trek.
How far will you go?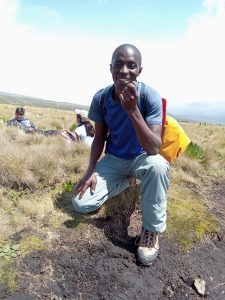 @Jaribu Founder Nick Mwaura
For Reservations, Bookings & Inquiries
Please fill in the form below, and we'll get in-touch with you within 24hrs.